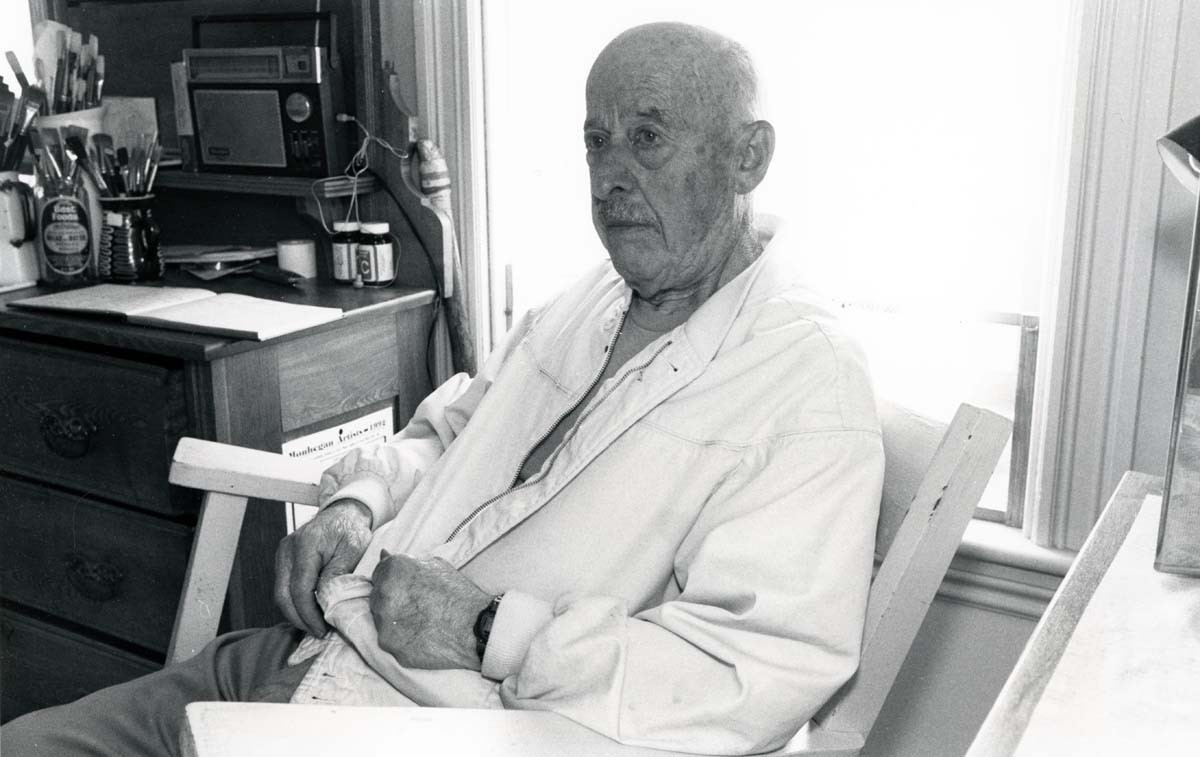 "A picture, in my opinion, is of something; a painting is something. So in its own right it has an existence, and it's almost like a satellite in the outside world reflecting back communication from the painter to anyone willing to, and capable of responding to it." –From an Oral history with Ted Davis conducted by Ed Deci in 1990.
Born in New York City, Ted Davis began studying painting in 1927 at The Cooper Union School of Art. He continued his studies with John J. Newman in 1935 and, following his service in WWII, studied with Hans Hofmann on the GI Bill.
In New York, Davis became acquainted with artists he would also encounter on Monhegan. He kept a 16th street studio in the same building with Alex Minewski and worked with Herb Kallem, and Mike Loew at the The Hans Hofmann School of Fine Arts. However, it was paintings by Andrew Winter and A.J. Bogdanove, that Davis saw in New York Galleries that drew him to the island. He first visited Monhegan with his wife, Evelyn, in 1948, and soon they traded summers in Rockport, Massachusetts for Monhegan. Davis was a fixture in the artist community, selling art supplies from his room at the Monhegan House, and maintaining the artist studio list, a tradition that continues to this day.
Davis showed in New York at the Brooklyn Museum, the Butler Museum of American Art, and in annual exhibitions with the National Society of Painters in Casein, of which he was a founding member and officer. In 1997 he was featured in a solo exhibition at the Farnsworth Museum in Rockland, Maine.