Threat of War: Merchant Marine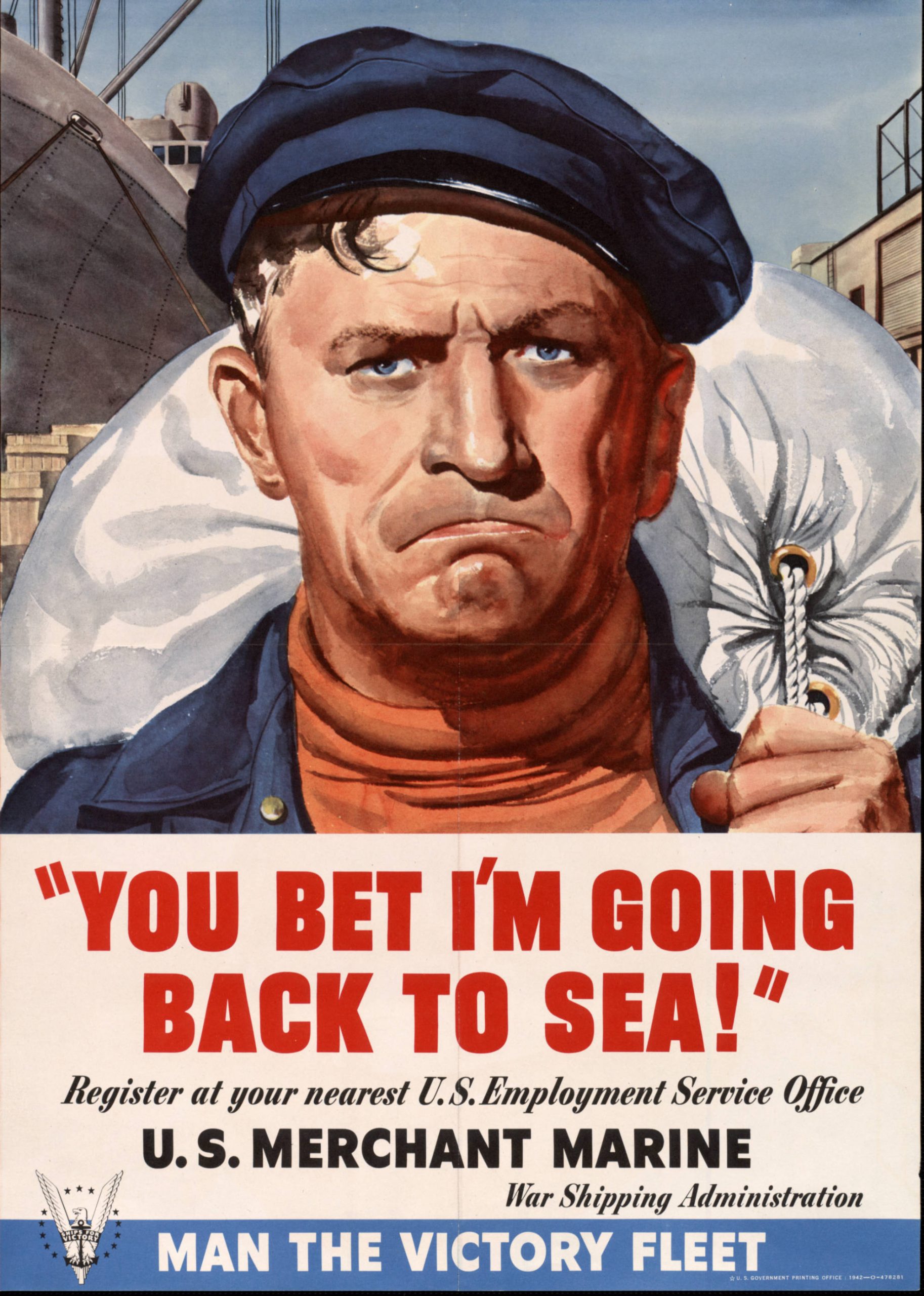 War Shipping Administration. You Bet I'm Going Back to Sea. 1942. Image courtesy of Hennepin County Library
Beginning with the passage of the Merchant Marine Act of 1936, the United States embarked on a merchant shipbuilding program to design and build five hundred modern merchant cargo ships. By the end of World War II, the Maritime Commission funded the most successful merchant shipbuilding effort in world history. Under Maritime Commission contract, 5,777 ocean going merchant and naval ships, including Liberty ships, Victory ships, freighters and tankers were built in U.S. shipyards.
"According to the War Shipping Administration, about 243,000 men served in the U.S. Merchant Marines during World War II, and the U.S.Merchant Marine Academy produced a total of more than 6,600 officers. Following the war, merchant mariners continued to serve by transporting troops, supplies and prisoners of War. When they finally returned home, they made the journey without travel expenses or mustering-out pay. Although they were an official, uniformed armed service, as designated by the Merchant Marine Act of 1936, they were not accorded veteran status.  There were no promises of pensions, no disability benefits for their war wounds, no home loans, and no education subsidies." Williams, Nancy K. "The U.S. Merchant Marine, Serving America at Sea." Kings Pointer, Fall 2017, p 33.
The City of Chattanooga, a passenger ship was chartered by the Government to transport troops to Iceland in 1940. In 1941, the ship was acquired by the Coast Guard as a training ship and transferred to the War Shipping Administration.