Islanders in the Service: Earl Field, Jr. (1918-1986), Naval Reserves
Earl Field, Jr. was the son of Earl Field, Sr. and Emma Richardson. Born in New Harbor, Earl grew up on Monhegan, lived with his parents and fished. At the age of 23, in 1941, Earl joined the Naval Reserves.
While in the Naval Reserves, Earl trained as a gunners mate in New Orleans, LA. In 1942, he was assigned to a torpedo boat. Earl married Charlene Blaisdell while in the service.
Earl served in the Navy for four years, traveling around the world. He was honorably discharged as a Boatswain's Mate First Class in 1945. Upon his return to Monhegan, he worked with his father, Earl Field, Sr., running the Laura B. between Monhegan and Port Clyde. He succeeded his father as captain in 1969, retiring in 1977 when he sold the Monhegan-Thomaston Boat Line to Jimmy Barstow.

Olga Stevens scrapbook. p. 68.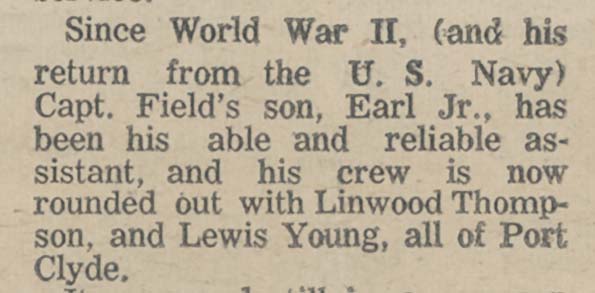 Libby, Lee Richards. "Capt. Earl S. Field Laughs at Rough Weather on his Monhegan Run." Lewiston Journal, 2 May 1959, p. 7A