War Begins: Conscripted Vessels
At the outbreak of WWII, the United States government began conscripting civilian vessels- including the Monhegan mailboat, for government services.
The Nereid, Monhegan's mailboat from 1931-1942, owned by Captain Earl Starrett was the first Monhegan vessel taken for the war in 1942.
"At the outbreak of World War II the government decided that boats like the Nereid would prove useful in defending the eastern seaboard. Before meeting this vital need she made a farewell trip to the island on a November day in 1942.
It was a sad occasion for we had come to depend on her. Losing her brought home a keen realization of just how much she meant to all of us. Dependable in all kinds of weather, she faithfully performed acts of mercy as well as running the mail. As I watched her wending her way back to the mainland, I became fully aware of the inescapable future changes in my small island world. I had dared to hope that life could continue as it always had, but knew, deep in my heart, that this could not be."  Burton, Clara. Monhegan Memories. Impatiens Press, 1998, p. 104.
Captain Starrett also served during the war,
but never on either of his own vessels.
"Thought you folks might like to know that Earle is over across the Atlantic in the French coast somewhere. Master of one of the biggest ocean going tugs, also being "Commodore" of the fleet over there. Doing a big job I expect. Been gone six months to date. Merry xmas to you all." – Arlene Starrett. Dec 4, 1944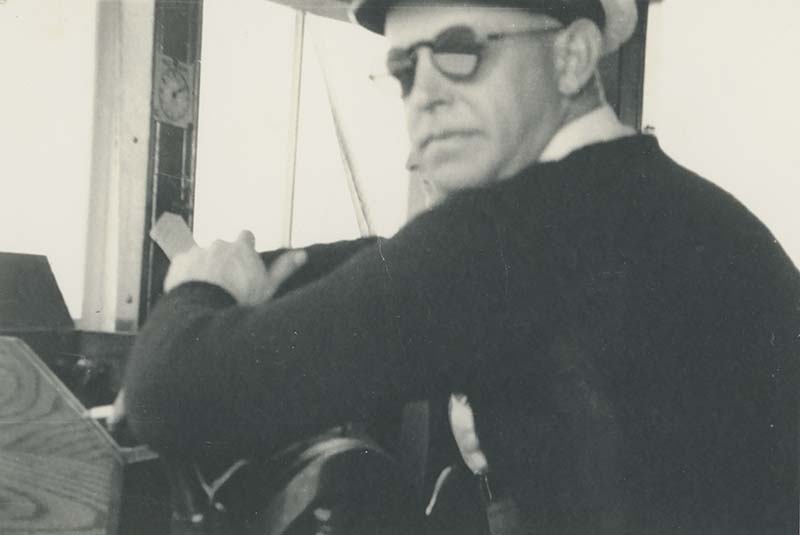 Capt. Earle Starrett at the helm of the Nereid
"In 1941 boats such as the Balmy Days…were held as ferries by the armed forces and did not run their regular schedules. Nor did they again until July 1945. While under government control, the Balmy towed targets for the Navy in Massachusetts Bay and carried supplies to defense installations on coastal island."  Rumsey, Barbara. "Running Charlie Wade's 'Balmy Days'." Boothbay Register, 14 June 2012.
"She was built by my dad on Swan Island in the Kennebec in 1931-32 and he ran her to Monhegan '32-'72 when he sold her to Cap't Bob Fish."
Letter from OJ Wade, son of Charlie Wade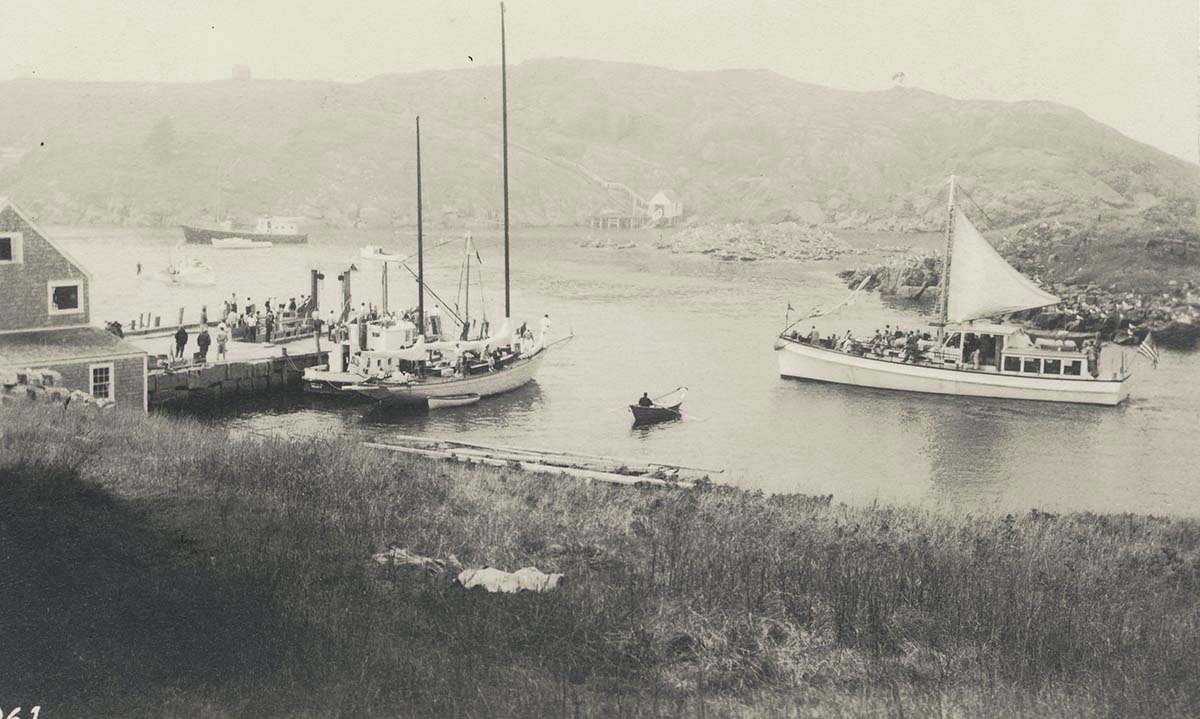 Balmy Days approaching Monhegan Wharf circa 1940
Built in 1943 by M.M. Davis & Sons, Inc. of Solomons, MD, the Laura B is a 65-foot, wooden WWII tender vessel, an Army T-57. This type of vessel was made by the Army specifically to transport people and supplies to and from shore or to another ship. Made of white oak with western fir planking, approximately 3,000 of these general workboats were built to support the war effort.
After three years of service in the South Pacific, the former Army workboat was shipped back to Baltimore, where it was purchased by Clyde Bickford of Vinalhaven, Maine. The boat was rebuilt by Charles Ledbetter at Camden Boat Works. Bickford renamed the boat the Laura B. after his mother. Bickford used the Laura B. to carry lobsters from Vinalhaven and other islands to Boston and New York. Earl Field, Sr. purchased the boat in 1952 to carry mail, passengers and freight between Thomaston and Monhegan. The Laura B. continues to be the year-round mail, freight and passenger boat to Monhegan.